Gamescom 2016 Games and Cosplay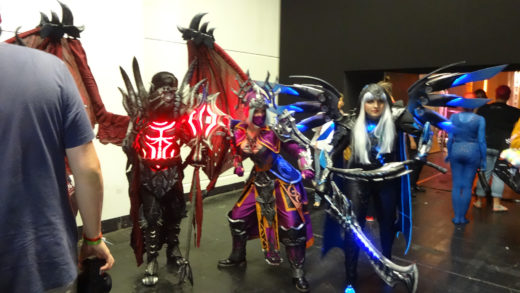 Gamescom is Europe's biggest gaming convention and was able to attract 877 companies and 500.000 visitors this year. We were very happy to attend this year again and fill you in on our impressions as gaming and Japanese pop-culture fans.
In this sense it is fitting to first start with the Japanese game producer powerhouse Square Enix. The upcoming Final Fantasy XV game was omnipresent as Square Enix spent a lot of money in advertising their new title. From what I was able to see and play so far I am looking forward to this one very much. The story and graphics are amazing so far and a related full length CGI movie called Kingsglaive can already be watched as early access. However, the official release of the game was postponed to the end of November. Other notable titles new were Nier Automata and Deus Ex Human Mankind Devided.
Namco Bandai presented their 2 new Beat-'em-up franchises Tekken 7 and Dragon Ball Xenoverse 2. We were able to play both and they seem rather promising. Xenoverse 2 is implemented a lot of suggestions of the gaming community and is trying to deliver a more engaging multiplayer experience.
Personally I am looking forward to the new Kickstarted sequel of Divinity Original Sin 2. Fans of classic story and character driver turn based RPGs will get their money's worth. There have been a lot of interesting improvements to the first game, which was already a fan favorite for many. The multiplayer campaign can now be played with 4 friends and each player can choose a unique character background story which will be highly relevant to the plot. They are even times when those backgrounds can demand conflicting decisions from the 4 players forcing them to make difficult decisions and enriching the role-play aspect of the game.
Another promising Kickstarter story driven RPG to come is Torment Tides of Numenera. The developers are trying to capture the spirit of the classic original Torment RPG and seem to do a pretty good job from what I was able to see. In addition, the story is written by my favorite fantasy book author Patrick Rothfuss, who is known for the Kingslayer Chronicles books.
The cosplayers this year also outdid themselves as can be seen in the pictures above. All in all Ganescom was a very enriching experience and I will be certainly attend again next year.