Winter 2008 Anime List
The Fall 2007 Season is slowly coming to an end and with that many great (and not so great) anime shows are ending as well. Obviously at the same time the Winter 2008 season is coming closer starting early next year in January once again providing us with lots of new shows and sequels.
A recent tendency that I have noticed is that more and more sequels to preexisting shows are being produced, which I find to be a good thing because there is a high chance for shows you liked to be continued. We all know it`s not fair to make a 13 episode anime out of an 15 volume manga or a 10 volume novel.
Like every time when a new season is coming closer, I separate all the shows that will air that season from those that will air later on or at an uncertain date by opening a new list for the Season thereafter (in this case Spring 2008). Don`t forget that those anime shows listed at the top are Spring 2008 shows. Those further down still don`t have specific airing dates and a few of those maybe even have to be moved to the Winter 2008 list as new information come by in the next 2 weeks.
For those who wonder where I get my information and if everything in my listings is true, I can say that you guys can pretty much just trust into the decent accuracy of my lists (except for the genre descriptions maybe) as I didn`t have to deal with much false information up until now and because I update my lists daily. And of course if you find any kind of mistakes or false information you can contact me anytime and I will correct it immediately.
Anime TV:
12.12.2007
Ayakashi
Genre: Action, Fantasy
http://www.ayakashi.info/
24.12.2007
Macross F
Genre: Shounen, Sci-Fi
http://www.macrossf.com/
28.12.2007
Harukanaru Toki no Naka de 3


http://www.gamecity.ne.jp/neoromance/tv/haruka/kurenai/
02.01.2008
Sisters of Wellber (Wellber no Monogatari) 2nd Season
Genre: Fantasy, Adventure


http://www.avexmovie.jp/lineup/wellber/index.html
03.01.2008
Rosario + Vampire
Genre: Action, Romance, Fantasy, Comedy


http://www.rosa-vam.com/
03.01.2008
H2O ~FOOTPRINTS IN THE SAND~
Genre: Romance, Harem, Drama


http://anime.webnt.jp/h2o/
04.01.2008
Hatenkou Yuugi
http://hatenkouyugi.com/
04.01.2008
Kimi Ga Aruji De Shitsuji Ga Ore De ~They Are My Noble Masters~
Genre: Romance, Harem


http://kimiaru.jp/
05.01.2008
PERSONA -trinity soul-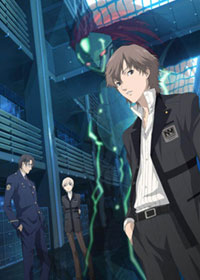 http://www.persona-ts.net/
05.01.2008
Major – 4th Season
Genre: Sports, Drama
http://www3.nhk.or.jp/anime/major/
06.01.2008
Minami-ke Okawari
Genre: Comedy


http://www.tv-tokyo.co.jp/contents/minami-ke2/
06.01.2008 till 30.03.2008
True Tears
Genre: Drama, Romance, Harem


http://www.truetears.jp/
06.01.2008 till 30.03.2008
Sayonara Zetsubou Sensei Dainiki
Genre: Comedy, School


http://www.starchild.co.jp/special/zetsubou2/
06.01.2008
Shigofumi ~Stories of Last Letter~
Genre: Drama, Fantasy


http://www.shigofumi.jp/
06.01.2008
Porfy no Nagai Tabi
http://www.nippon-animation.co.jp/new/hotinfo/0711porfy.htm
08.01.2008 till 01.04.2008
GUNSLINGER GIRL 2 – Il Teatrino
Genre: Action, Drama


http://www.gunslingergirl.com/
08.01.2008
Ookami to Koushinryou (Spice and Wolf)
Genre: Shounen, Fantasy, Ecchi


http://www.spicy-wolf.com/
08.01.2008
Aria the Origination – Season 3
http://www.ariacompany.net/
10.01.2008
Noramimi
http://noramimi-anime.jp/
11.01.2008
Hakaba Kitarou
http://www.toei-anim.co.jp/tv/hakaba/
14.01.2008
Yatterman Remake
http://www.ytv.co.jp/yatterman/
14.01.2008
Moegaku 5
Genre: Mahou-shoujo, Bishounen, Parody
http://tv.moegaku.jp/
xx.01.2008
Zenryoku Usagi
http://www.zenryoku-usagi.com/
xx.01.2008
Ichigeki Sacchuu!! Hoi Hoi-san
Genre: Comedy, Sci-Fi
–
03.02.2008
Kodai Ouja Kyouryu King D Kids Adventure Yokuryuu Densetsu
http://www.nagoyatv.com/kyoryu/second.html
Anime DVD OVA:
21.12.2007
Kimi ga Nozomu Eien: Haruka Route ~Next Season~
Genre: Romance, Drama


http://www.kiminozo.jp/
26.12.2007 till 26.03.2008
Ryofuko-chan
http://www.starchild.co.jp/special/ryofuko/
17.01.2007
School Days <Valentine Days>
Genre: School, Romance, Harem, Drama


http://www.interchannel.jp/game/SDLH/gaiyou_tokuten1.html
25.01.2008
.hack//G.U. Trilogy OVA
http://www.cyberconnect2.jp/trilogy/
04.02.2008 till 10.03.2008
Mnemosyne no Musume-tachi
http://www.rin-asougi.com/
22.02.2008 till ?
My ZHiME 0 S.ifl
Genre: Fantasy, Action
http://www.my-zhime.net/ova/sifr/
Anime Movie:
22.12.2007
Bleach – The DiamondDust Rebellion
Genre: Shounen, Action, Fantasy


http://www.tv-tokyo.co.jp/bleach/
01.12.2007 till ?
Kara no Kyokai – Garden of Sinners (7 Parts Movie)
Genre: Action, Fantasy, Drama


http://www.karanokyoukai.com/

Last modified on Saturday 27th November, 2010 at 4:17pm.